Message from the Headteacher
Welcome to Our Lady & St John Catholic college. I could not be more proud of the staff and students who make up our school community.
Our curriculum is very ambitious. We have high expectations of our students and believe they can achieve great things in their lives if they work hard. This is why we stretch our students beyond the National Curriculum in many subjects. Our Teachers and Teaching Assistants are highly skilled subject experts and we provide support for students who need it so everyone achieves.
A core aspect of our mission is "to develop all the gifts and talents of our students." You will see this in our extra-curricular offer which includes the full range of clubs and opportunities you would expect, in Sport, Music, Drama, Art, Technology and other areas. We also have unusual clubs such as Archery, Gardening and Bicycle Maintenance. Truly something for everyone!
Most importantly though, our school is a "Caring Catholic Community." Our faith and our values guide everything we do. This is why we are so oversubscribed; parents want the excellent foundation we provide, forming their child into the adult they want them to be. One of our students put it best in a comment to an OFSTED inspector, "We are like a family here." This is so true and I hope we are able to welcome you and your child to our family should you be successful in securing a place.
Latest News & Galleries
MP Kate Hollern & Former Pupil Liam Visit OLSJ
BAE GOLD WINNERS
Watch our film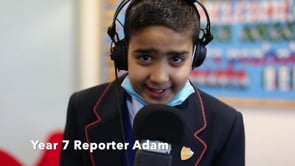 Quick links